A "Millennial Missionary" for Canada
Answers in Genesis–Canada is announcing their newest speaker, writer, and youth outreach coordinator, Patricia Engler, who is now available to help equip Christian youth and adults across Canada.
Patricia's passion for biblical apologetics ignited at age 14, when she heard a seminar by Answers in Genesis founder Ken Ham (also the visionary behind the popular Creation Museum and Ark Encounter attractions in Northern Kentucky, USA) and realized the importance of standing firm on the truth of scripture and having a reasoned faith (1 Peter 3:15).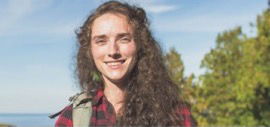 After 12 years of homeschooling, Patricia completed a B.Sc. with distinction at a liberal Canadian university. There, she attended intensive courses on evolution to learn firsthand how Christian students like her can better navigate secular education without compromising their biblical worldview. Patricia's experiences showed the importance of biblical teaching, apologetics, and mentoring for students.
Ken Ham declared, "I'm thrilled that we are now seeing so many young people like Patricia who have a passion for using apologetics to build up young Christians in the church and to share their faith more effectively." Ham added, "I strongly urge Canadian churches and groups to host this dynamic and knowledgeable speaker."
To learn from other students' experiences, Patricia grabbed her backpack and adventured around the world, solo, in 180 days. Along the way, she documented how Christian students in multiple countries were able to keep their faith while attending university. Now she is excited to equip youth/young adults across Canada (and around the globe) with the message of biblical authority that AiG proclaims.
Using AiG resources, the tools she's developed, and insights from students she met worldwide, she provides invaluable "real world" training to Christian youth and young adults in how to navigate secular education. In her spare time, Patricia can often be found adventuring outdoors, exploring back roads, and playing the ukulele.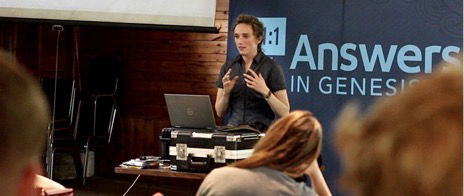 Patricia is a passionate and engaging communicator who speaks to a variety of audiences. She is available for speaking at children's, family, youth, young adult, and women's events and conferences. Patricia's presentations encompass biblical apologetics, critical thinking, and her personal testimony of her amazing around-the-world trip in 180 days. Her well-illustrated talks are designed to inspire, equip, and encourage believers of all ages. Non-believers should also be encouraged to attend her Bible-upholding presentations.
People can follow Patricia on Instagram, Twitter, and Facebook @penglerAiG. She will be presenting at her first major Christian event later this month at the Answers in Genesis Gospel Reset Mega Conference in Niagara Falls, November 21–23.
Answers in Genesis-Canada is dedicated to helping Christians defend their faith and proclaim the gospel of Jesus Christ effectively. It focuses on providing answers to questions about the Bible—particularly the book of Genesis—regarding key issues such as creation, evolution, science, and the age of the earth. AiG–Canada is a nonprofit organization wholly supported by its patrons.
SourceThis article originally appeared on answersingenesis.org
Hits: 10