Fear: Good or Bad?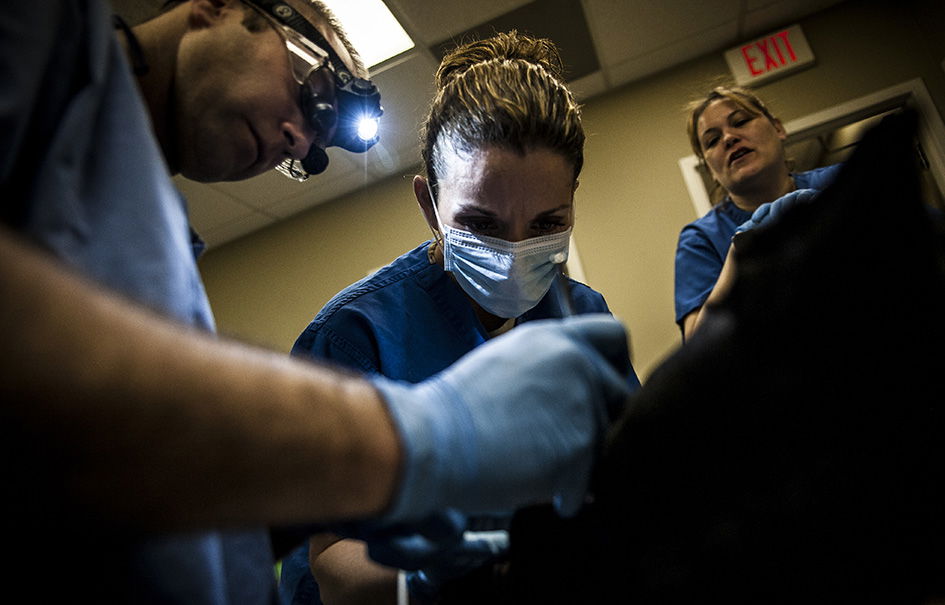 The sound of the dentist's drill, a weird noise in the dark, an odd-looking shadow, a precipitous ledge: Most people will experience terror or a phobia of such things at some point in their life. And most people would consider fear a bad thing—or at least an unpleasant thing. And they're right. But why is there fear and where does it come from?
Let's start with Scripture, since it's the only history of the universe with records back to the beginning. Very early on, in Genesis 3, Adam and Eve hid from the Lord after they disobeyed. Adam even admitted to fear: "I heard the sound of you in the garden, and I was afraid, because I was naked, and I hid myself." Being afraid and ashamed were two new experiences to fallen humankind, all due to sin. Then Adam and Eve were driven out of the garden, and God "placed the cherubim and a flaming sword that turned every way to guard the way to the tree of life." I think it's reasonable to assume the angel was frightful to behold, clearly threatening death (another new and unpleasant concept for humankind) to would-be trespassers.
Subsequently Cain was fearful of being killed in revenge for the murder of his brother. And though the fossil record shows evidence of animal carnivory prior to the flood, man was not given leave by his Creator to kill for food until afterward (though in the depravity of Noah's time, it is likely that command was not being obeyed by all). Again, as God spoke to Noah's family, we see fear mentioned, spreading to animals
as well:
The fear of you and the dread of you shall be upon every beast of the earth and upon every bird of the heavens, upon everything that creeps on the ground and all the fish of the sea. Into your hand they are delivered (Genesis 9:2).
Good Fear
So how do we deal with a verse such as the following:
The fear of the LORD is the beginning of knowledge;
fools despise wisdom and instruction (Proverbs 1:7).
Fear of the Lord is often explained away as merely reverence.
Fear of the Lord is often explained away as merely reverence. While that may be an aspect of it for Christians, the first occurrences of man's interactions with God—after sin—display God's holiness and justice, and man's mortal fear. Matthew 10:28 bears this out: "And do not fear those who kill the body but cannot kill the soul. Rather fear him who can destroy both soul and body in hell."
But, thank God—literally!—our interactions with the holy Creator of the universe don't have to be fearful of condemnation! In one of the great "But God" passages of Scripture that describes our rebellious state and just cause for God to condemn us and then demonstrates mercy for his people, we see part of God's plan unfolding:
But God, who is rich in mercy, because of His great love with which He loved us, even when we were dead in trespasses, made us alive together with Christ (by grace you have been saved), and raised us up together, and made us sit together in the heavenly places in Christ Jesus, that in the ages to come He might show the exceeding riches of His grace in His kindness toward us in Christ Jesus (Ephesians 2:4–7).
While even our righteousness is filthy (Isaiah 64:6) in the light of God's holiness—which caused even John to fall down as dead in his vision in Revelation 1:17—believers have an advocate (Jesus) with the Father if we sin (1 John 2:1). And there are several passages where man, when confronted with the holiness of God or even angels, are assured "Be not afraid," as John was in his vision. In fact, Matthew 20:28 (mentioned earlier) is actually a comfort to God's people. What could we possibly fear here on earth when our God is for us (Romans 8:31)? And 1 John 4:18 says, "There is no fear in love, but perfect love casts out fear. For fear has to do with punishment, and whoever fears has not been perfected in love." If we are believers, Christ ultimately took our punishment, and the Holy Spirit is perfecting us in love.
Provision
God has provided many resources for his people.
When faced with a fearful circumstance that you cannot control, there are other things you can do.
God has provided many resources for his people.
Recite and read Scripture. See below for some ideas.
Sing calming hymns. See below for more ideas.
Pray.
Speak to your pastor or a trusted Christian friend, who will give you godly and scriptural advice.
Count It All Joy
A godly fear of the Lord is not something scary or bad. Throughout Scripture, we see those who are followers of God called "Those who fear the Lord" (e.g., Psalm 22:23). And fear and service to our Lord are not looked upon as something dreary or worrisome, but rather something to rejoice about (Psalm 2:11). May God's people look forward to a time when we, who fear him rightly, will come together to sing his praises.
And from the throne came a voice saying,

"Praise our God,
all you his servants,
you who fear him,
small and great."

Then I heard what seemed to be the voice of a great multitude, like the roar of many waters and like the sound of mighty peals of thunder, crying out,

"Hallelujah!
For the Lord our God
the Almighty reigns. (Revelation 19:5–6)
Additional Selected Scriptures
Exodus 14:31
Deuteronomy 10:12
1 Samuel 12:20–22
2 Kings 6:16–17
2 Kings 17:37
1 Chronicles 28:20
Psalm 19:9
Psalm 23:4
Psalm 27:1
Psalm 33:18
Psalm 34:4
Psalm 46:1–2
Psalm 103:11–17
Proverbs 3:21–26
Proverbs 19:23
Proverbs 29:25
Isaiah 11:3
Isaiah 12:2
Isaiah 35:4
Isaiah 41:10
Jeremiah 32:39
Matthew 14:27
Luke 12:5–7
John 14:27
Acts 18:9–10
2 Corinthians 7:1
2 Timothy 1:7
1 Peter 3:14
Hymns
A Mighty Fortress Is Our God
Be Still My Soul
Day By Day
How Great Thou Art
It Is Well with My Soul
Jesus, Lover of My Soul
Leaning on the Everlasting Arms
My Savior's Love
O God, Our Help in Ages Past
O Love That Will Not Let Me Go
'Tis So Sweet to Trust in Jesus
What a Friend We Have in Jesus
https://answersingenesis.org/christianity/christian-life/fear-good-or-bad/ This article originally appeared on answersingenesis.org
Hits: 9