State-of-Art 4D Theater Opens at Creation Museum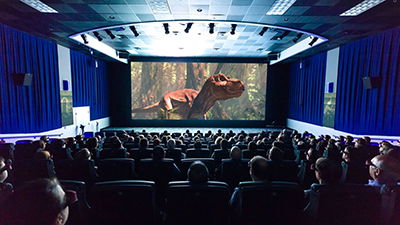 Editor's note: This article was adapted from a news release that was recently distributed to the media.
Opening today, a unique cinema-graphic experience awaits Creation Museum guests with the new 3D film In Six Days. This well-produced 22-minute 3D film on the six days of creation has been adapted from the full-length 3D film Genesis: Paradise Lost, produced by Eric Hovind and shown earlier this year in movie theaters across America. In Six Days uses the best in 3D projection and eye-wear, including state-of-the-art "active 3D glasses" that employ infrared technology.
The Special Effects Theater at the Creation Museum, which has been enjoyed by millions of guests as a fun experience at the popular attraction in northern Kentucky, reopened this morning. After 11 years, this high-tech theater has been totally refurbished with the newest in technologies, including the latest in 3D equipment. Renamed The 4D Special Effects Theater, this auditorium is the combination of 3D projection/eye-wear and physical effects occurring within the theater. The museum's unique 3D projection system and glasses will synchronize with rumbling seats, short air blasts, back pokes, wind blows, and strobes, which all add a fourth dimension to the guests' experience.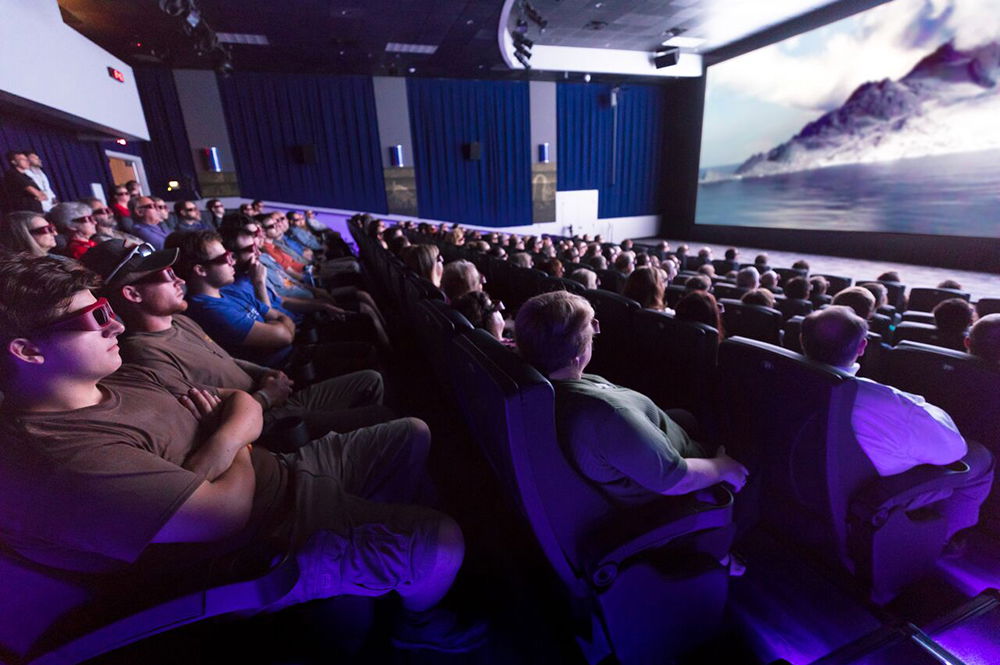 The 3D glasses are not the typical ones handed to guests at conventional movie theaters. They are high-tech eye-wear called "active 3D glasses," using infrared technology. Active 3D glasses are battery-operated shutter glasses that do what their name describes: they rapidly shutter open and closed, meaning that information meant for the left eye is blocked from the right eye by a closed (opaque) shutter.
At strategic moments in In Six Days and future films to be shown in the theater, the audience will be immersed with experiences right at their seats. With modern technology, the theater's programs will share timeless biblical messages as lightning flashes and storms are simulated along with the 3D images that appear to pop out of the screen. Climactic moments will be enhanced as guests sit in their innovative and comfortable new specialty seats.
The CEO and founder of Answers in Genesis and its two attractions, the Creation Museum and the Ark Encounter, Ken Ham, said, "Our designers, fabricators, AV techs, and other talented staff have created a wonderful upgrade at the popular Creation Museum. I believe guests will be amazed by the cutting edge, immersive technology of our new 4D Special Effects Theater. This aesthetically striking auditorium is a key part of continuing the rapid expansion of our world-class museum and its sister attraction, the Ark Encounter, which are both growing in popularity."
Like the special 3D glasses, the theater's projector is a notch above industry standard. It's a Christie CP4230 projector, used in only the most high-tech movie theaters. The Christie Company is the world leader in 4K DLP Digital Cinema projection, with a remarkable 34,000 lumens, and has built the world's first Superior 4K Digital Cinema Projector.
In their interactive seats, theatergoers will watch Genesis chapter 1 come to life in 3D. Later in the year, the museum's popular Men in White special effects program will return to the totally renovated theater. For 11 years, this fun program has used special effects to entertain and educate guests.
The new 4D Special Effects Theater is part of a one-year overall upgrade of the exhibits at the Creation Museum. Due to increased attendance at AiG's other attraction, the Ark Encounter, more visitors than ever are touring the Creation Museum. The museum's hallways have been widened, additional restrooms have been installed, a new Christ, Cross, Consummation section has been completed, additional food venues have been installed, and, over the next 12 months, several new exhibits will be added to the first third of the Exhibit Hall.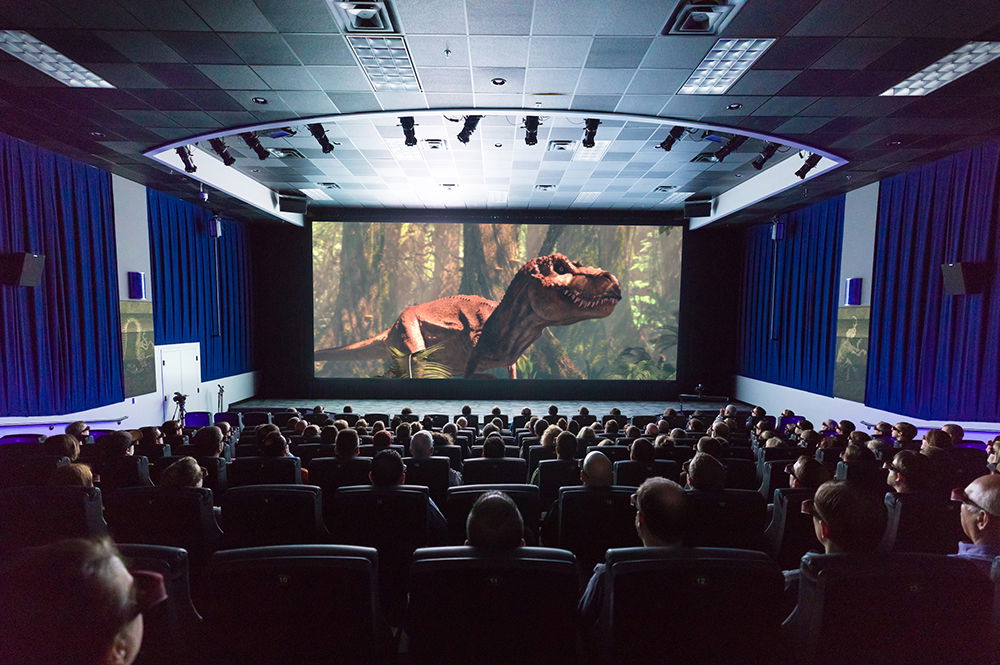 Since the Ark Encounter opened in 2016, attendance at the Creation Museum (completed in 2007) has nearly doubled in those two years. The Ark Encounter continues to experience huge crowds at the start of its third year of operation. The internationally recognized life-size Ark set a record for attendance last Saturday with over 8,500 paying guests, not including young children and members who enter free.
Noting the growing attendance at both attractions, hotel operators are building new hotels in northern Kentucky to accommodate more tourists. Over 90% of museum and ark visitors come from outside Kentucky. Ham noted, "The economic boon in tourism has been phenomenal for the region. We're happy to have twice won the Star of Tourism award from the Northern Kentucky Convention and Visitors Bureau."
Ham concluded, "With the new 4D theater at the museum and other upgrades, I believe our guests will be dazzled by all the new technology. It will greatly help us teach biblical truths, starting with Genesis."
The 4D theater experience is included in a guest's admission ticket. A museum ticket is good for two consecutive days.
Answers in Genesis is an apologetics (i.e., Bible-defending) ministry based in northern Kentucky, near Cincinnati. In 2016, AiG opened the Ark Encounter in Williamstown, with a massive 510-foot-long Noah's Ark as its centerpiece. The Creation Museum (west of the Cincinnati Airport) has welcomed about 3.7 million visitors and has also become a major family attraction in the Midwest. For more information, visit AnswersinGenesis.org.
https://answersingenesis.org/about/press/2018/08/10/state-of-art-4d-theater-opens-at-creation-museum/
Hits: 20